COsleep: Closed- and Open Sleep Stimulations with Auditory Stimuli
Following the tutorial on how to get a sleep recording/lab for under $1000 using OpenBCI here a continuation on….
Open Hard- and Software for in-sleep Closed– and Open-loop Targeted and Untargeted Memory Reactivation and Disruption with full-PSG recording.

Only intended for research and people that know what they are doing here and have techincal expertise and know how to assure safety in such devices and setups. If you are not doing research in this area you might kill yourself (e.g. an electric shock on your head) or others with this or cause even indirect harm and damage (the negative near and long-term consequences of stimulation during sleep are virtually not explored).
So use this on your own risk. You have been warned.
The github repository with the source (python) and first binary releases.
Only works with OpenBCI Cyton board (firmware greater than 2.XX) and Linux.

So you need a Linux distribution for this to work, I would recommend Ubuntu 18.04 LTS because I tested it, it is used by many, it is easy entry …. and you do not have to be a PC nerd to install it properly and safely. In fact, about 2 hours of your life to install alongside Windows for example for everyone that can setup the cables correctly on the OpenBCI should be realistic, for example see a tutorial to install Ubuntu alongside Windows … or google how to do it.
Here a poster with pictures and infographics, lists'n'stuff also showing an example in how to maybe safely pack an OpenBCI in a small cost effective Box, which I call "Somnofredics Plus PSG". Its a fun project that arose from a collaboration as seen in the Poster above. The Hardware setup and how to connect the stuff, see below… for more details it is highly recommend to also read the previous tutorial here
BTW: The recordings I gained are, from my experience, at least as good as those from proprietary devices. (Won't name them here, but I tested at least 2 top of the market products from two different companies. Parallel recordings on the same electrodes and proper evaluation of those recordings make me very confident in the high quality of the OpenBCI recordings (maybe the ADS1299 is really worth its high ~$50 price tag over similar cheaper AD-converters). Also confirming Rashid et al. (Nov. 2018)
A tutorial on the software will follow some time later when I or others  find the time to do that.
Hardware Setup
Here are two setups to be used with COsleep, for now they are fixed to a 8 channel and a 16 channel setup with fixed electrode positions. So for a recording with COsleep plug the pins on the OpenBCI device as in the following.
Some more detail on the setup for non-sleep researchers. The setup is a standard sleep polysomnography setup usable for sleep scoring based on Rechtschaffen and Kales (1968).
It includes and EOG (two bipolar electrodes around the eyes) and EMG (two bipolar electrodes on the chin, musculus mentalis) and two EEG Deviations at C3 and C4 according to the international
10-20 Electrode placement system
(that is C3:A2, C4:A1). The setup records C3, C3, A1 (left mastoid) and A2 (right mastoid) signals separatly referenced to a placed reference electrode at Cz and uses as a bias Bias/Ground electrode at Fpz (placed at the center of the forehead).
Other than in the original description the A1 and A1 should not be placed on the ear lobues, but on the
Mastoids
(the "bony", part behind each ear).
This way, one can later also deal with lost mastoid electrodes (e.g. in case A2 is lost one can still use C3:A1 as a backup) and this setup is in general more flexible, thus preferred here.
Importantly, the configurations below all the (non-biploar) channels that are referenced to the SRB2 (N, bottom) pin (that is the EEG channels like A1, A2, C3, C4) are REVERSED in their polarity. This can only be corrected later on after the converstion (non-".csv" files like edf or brainvision files).
This is not avoidable, otherwise one needs to reference against the SRB1 pin (P, TOP), which however will FORCE all channels to be referenced to this channels, thus not allowing for bipolar channels like EMG and EOG. So this setup is clearly preferred. The polaritiy of the bipolar channels are not impaired by this.
8-channel setup: Main board (no daisy)
Setup the OpenBCI device and connect the electrodes: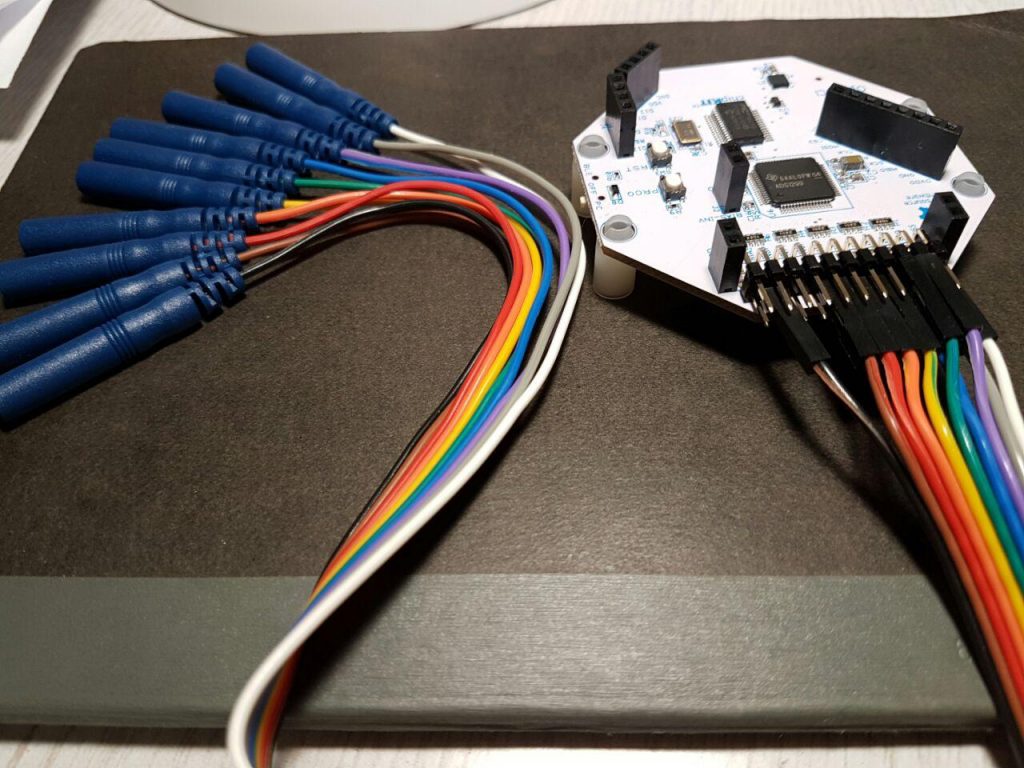 On the OpenBCI device, the Bottom pins are N pins, Top pins are P pins, so connect them in this way:
Channel
# Electrodes
Pins to use
Electrode label (cable color)
Type/Function
Location
Comment
SRB
1

N(bottom) alias SRB2

Ref (white)

Reference

vertex (~center of head viewed from top) (Cz)
BIAS(2)
1
(2 is the bottom pin)
Ground
Ground/Bias
forehead (Fpz)
N1P
2
N(bottom), P(top)

EMG1

,


EMG2

EMG
left chin,
Right chin
EMG =
EMG1-EMG2
N2P
2
N(bottom), P(top)

EOG1

,


EOG2

EOG
1 cm left of left eye cantus and a little down,
1 cm above right eye center
EOG =
EOG1-EOG2
N3P

*

1
N(bottom)
A1
EEG
A1 (bony part behind left ear)
N4P

*

1
N(bottom)

A2

EEG
A2 (bony part behind right ear)
N5P

*

1
N(bottom)

C3

EEG
C3 (6-8 cm left of vertex towards left ear)
N6P*
1
N(bottom)

C4

EEG
C4 (6-8 cm right of vertex towards right ear)
N7P
[not plugged]
– (unused)
e.g. Fz or bipolar ECG, trigger signal (red/positive in top P pin)
N8P
[not plugged]
– (unused)
e.g. Pz or bipolar ECG, feedback channel from stimulation
In total 10 electrodes are used, two channels are still free to be recorded (e.g. occipital of frontal channels, or second EOG etc.), however would require additional electrode pins that do not come with the kit (but can be bought additionally).
16 channel setup: Main board + Daisy module.
see:
http://openbci.com/forum/index.php?p=/discussion/575/ch-1-8-ok-ch-9-16-railing
http://openbci.com/forum/index.php?p=/discussion/254/soldering-16-channel-openbci-kit
Prior important Notes:
No need to connect the BIAS of device and daisy module (taking one of any of the two is enough)
Connect the device's SRB2 to daisy's SRB2 and then connect with Reference using a Y cable/bridge (typically provided in the OpenBCI package with the daisy module, but can be build by yourself as well).
You need a second connector cable with 10 additional electrodes (2×10 connectors). For example you can remove the black and white cable from this connector resulting in 8 additional EEG channels, … removing them avoids confusion them with the Reference (white, connected with a Y cable/bridge) and Ground (black) of the first connector the of the setup below. But you can also use these two extra cables for an ECG (e.g. in NP8 channel).
Device
Channel
# Electrodes
Pins to use
Electrode label (cable color)
Type/Function
Location
Comment
main
SRB
1
N(bottom) alias SRB2
Ref (white)
Reference
vertex (~center of head viewed from top) (Cz)
connected/linked to daisy module SRB Bottom pin with "Y-bridge"
main
BIAS(2)
1
(2 is the bottom pin)
Ground
Ground/Bias
forehead (Fpz)
main
N1P
2
N(bottom), P(top)
EMG1,
EMG2
EMG
left chin,
Right chin
EMG =
EMG1-EMG2
main
N2P
2
N(bottom), P(top)
EOG1,
EOG2
EOG
1 cm left of left eye cantus and a little down,
1 cm above right eye center
EOG =
EOG1-EOG2
main
N3P*
1
N(bottom)
A1
EEG
A1 (bony part behind left ear)
main
N4P*
1
N(bottom)
A2
EEG
A2 (bony part behind right ear)
main
N5P*
1
N(bottom)
C3
EEG
C3 (6-8 cm left of vertex towards left ear)
main
N6P*
1
N(bottom)
C4
EEG
C4 (6-8 cm right of vertex towards right ear)
main
N7P
2 pins
N(bottom),

P(top)

Negative pole, Positive pole
Trigger
On/OFF Trigger 1000 µV/0µV potential, see below.
main
N8P*
1
N(bottom)
ECG, reserved, e.g. noise
 ECG,Trigger2(EEG) …
 another bipolar channel.
daisy
SRB
1
N(bottom) alias SRB2
Ref (white)
Reference
vertex (~center of head viewed from top) (Cz)
connected/linked to main module SRB Bottom pin with "Y-bridge"
daisy
N1P*
1
N(bottom)
EEG1/

F3

EEG
F3 (6-8 cm to wards nose from vertex, then perpendicular 6-8 cm towards left side, and 6-8 cm away from C3)
daisy
N2P*
1
N(bottom)
EEG2/

Fz

EEG
Fz (6-8 cm to wards nose from vertex)
daisy
N3P*
1
N(bottom)
EEG3/

F4

EEG
F4 (6-8 cm to wards face from vertex, then perpendicular 6-8 cm towards the right, and about 6-8 cm away from C4)
daisy
N4P*
1
N(bottom)
EEG4/

P3

EEG
P3 (6-8 cm to wards back from vertex, then perpendicular 6-8 cm towards left side, and 6-8 cm away from C3)
daisy
N5P*
1
N(bottom)
EEG5/

Pz

EEG
Pz (6-8 cm to wards the back from vertex)
daisy
N6P*
1
N(bottom)
EEG6/

P4

EEG
P4 (6-8 cm to wards back from vertex, then perpendicular 6-8 cm towards right side, and 6-8 cm away from C4)
daisy
N7P*
1
N(bottom)
EEG7/

O1

EEG
O1 (12-16 cm to wards back from vertex, then perpendicular 1.5-2 cm towards left side, and 3-4 cm away from O2)
daisy
N8P*
1
N(bottom)
EEG8/

O2

EEG
O2 (12-16 cm to wards back from vertex, then perpendicular 1.5-2 cm towards right side, and 3-4 cm away from O1)
Here a short overview of the setup and where the electrodes suggested above are placed

Trigger/Indicator
A Trigger / Indicator can simply be constructed by the circuit below, attaching it like a bipolar channel on the N7P pins for example and the use of a 5 V USB plug (INTO THE BATTERY, NOT a power supply). It will provide a steady and fast spiking 1000 µV signal when the switch is turned on (and draws neglegtable power for the battery) or signal is 0 µV when the switch is turned off (no power consumption). The trigger voltage on the device pins can be increased or decreased by varing the resistors. Thus one channel is used per trigger. It can indicate Lights-OFF and Lights-ON, or when a standard procedure is performed etc. With a little of standardization one Trigger and a little annotation is usually enough to identifiy all kinds things to be triggered during the recodring (e.g. ON-OFF-ON-OFF sequences every second can indicate changes in procedure, or a short period with switch turned ON, when usually turned off can indicate testing of the signal with eye-movments, blinks, using of jaw muscle etc.)